For the past nine years, I've been in a North Country band.
The whole thing started when my friend Will and I grew tired of playing in jambands. We wanted to do something different & maintain a level of fun.
We decided to play Grunge & Punk rock.
We've gone through a lot of changes over the years (as personnel and as individuals). Our lineup stabilized into it's current form a while back.
TPR has gigged throughout NY & VT with Worldwide & regional acts over the past nine years on a minimalist budget.
We're proud of that.
Everyone that has ever played for TPR is family. Pokey Moonshine has long been a member of that family.
We send nothing but love to our entire crew past & present.
Making it big has never been a goal. The goal is fun... And, Rock 'n' Friggin Roll!
2019 has been different.
Over the course of a few months, all of my bandmates have moved on to new endeavors in new towns. I love & support that!
It was a great pleasure to have everyone together again in the same room playing the songs we created & love to play on Saturday night (9/28) in Plattsburgh.
Take a few minutes to join in the fun before reading the rest of this Trip Report: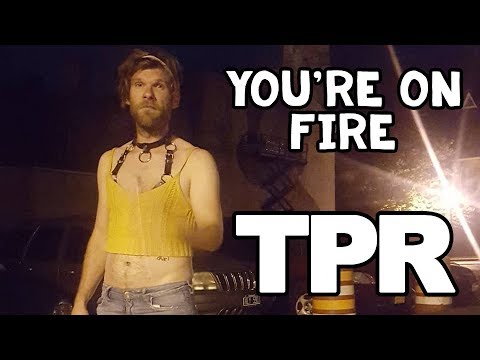 As you may have guessed... The night went long into the wee hours...
Thanks to the gig, I didn't have any hikes planned up. Yet, after picking Pokey Moonshine up on Sunday (9/29), it seemed obvious that we needed to get in the woods for a little while.
"Haven't been to Rattlesnake in a hot minute," I thought, "We can go there, hike, hit up Ethel's Dew Drop Inn & see if anyone's at the Uncle's (Summer) place."
So, that's what we did.
We've hiked the Snake in every season. It's easy & is akin to reciting the alphabet... Or, shouting "Stop! Drop! Rock and Roll!"
Don't get the latter reference? Scroll back up. Watch the video and then return to this point. We'll wait...
Beautiful Fall colors greeted us as we drove to the trailhead. The trees put on a display of all shades of "Fire."
(Still not getting the reference? Scroll up and play the "You're on Fire" video... We'll wait)...
Crisp Autumn air greeted us at the trailhead. We grabbed our packs and rocked our way to Rattlesnake.
We have the Snake down like the back of our
.
The trail was dry. That's always nice! The last time we were here, we took my parents along. It was their first ever peak & it was very wet. The climb whooped them... However, Pokey Moonshine & I got up early and tagged Dial the next day. .
After a Summer of big mileage and mondo elevation change... We were ready for this short trek.
We passed people left and right.
Arriving at the turnoff for the Snake, the climb truly begins. It's not much of a climb. But, you have the option to take the Easy Way (the trail) or the "Hard Way" of scrambling up the rocks.
We took the "hard way" of course...
Arriving at one of the lookouts towards Long Pond & Giant, I heard a large snake in the brush.
"Not sure if it's a Rattler. Listen to him moving," I said, "Let's stay away from the brush just in case."
They don't call it Rattlesnake Mountain for no reason. Playing it safe is the best bet when you're on the open rocks.
We hit the summit a few minutes later & ran into a number of familiar faces. One of those being our friend Noelle. I hiked Ampersand with her a few
years ago which reignited my love for climbing mountains. That hike inspired me to finish off the Saranac Lake 6 and parlayed into Pokey wanting to be a 46er. We hiked with Noelle and her Mother for a bit of the descent. Then, Kailee took off like a mountain goat & I had to keep up with her.
The entire hike took an hour of our time. Mountain hikes usually take more of our time. But, we had a few things on our minds which motivated us.
Once back to the car, we headed to Ethel's Dew Drop Inn in Willsboro for some food and ice cream on the last day of the season.
If you're in the area in the Summer, make it a point to visit Ethel's.
Just do it.
After our meal & most importantly dessert, we shot over to the Point to see if my Mom's brothers (My Uncles/Pokey's Great Uncles) were still hanging out at their camp.
They were! And, so was Louie!
Louie is a beautiful Chocolate Lab pup who just loves to see Pokey and play with her!
This was a rocking weekend from start to finish. From Family to Family...
Somehow, everything & everyone got crammed in.
It was "Fire!"
(Still not getting the reference? Scroll up... Hit the link...).
As stated, we climb it all of the time... It's such a short drive to the trailhead... I usually don't post about Rattlesnake Mountain on here... But, this was a fun & memorable weekend. It warranted a unique TR in my opinion. If you're in the area... Tag the Snake!