Disclaimer
Finally after over a week, I'm getting this up!
Date:
June 27, 2011
MapTech Total Mileage/Vertical Ascent:
15 Miles/4,050'
Duration:
11 hours; 6:40 a.m. – 6:30 p.m.
Benchmarks:
South Meadows: 6:40 a.m.
South Slide Base 9:50 a.m.
Summit: 12:50 p.m.
False Summit Slide (south): 3:05 p.m.
False Summit Slide (north): 3:40 p.m.
Avalanche Pass Slide (east): 4:30 p.m.
Path: 5:00 p.m.
Route:
South Meadows to Avalanche Pass. Bushwhack from path subsequent to first intersection south of Avalanche Lake to South Colden Slide. Ascent to summit. Descend 400' from False Summit (colden north) col to western slides. Ascend first (higher elevation southern) slide, descend northern slide. Continue descent to col and enter woods at about 3,650' in elevation on 30 degree heading (adjusted for declination). Bushwhack to Avalanche Pass Slide and descend eastern (thinner) leg. Path back to South Meadows.
Trail Conditions:
Wet, mud from rains over prior two days. Slide conditions were wet.
Temperature:
60-85 F
Partner:
Solo
Diet:
Breakfast of 3 raw eggs, 3 L water, 1 power bar pure, 1 loaf banana bread, 2 cliff bars, 1 blackfly.
Clothing:
Columbia Titanium long-sleeved shirt, ems hiking pants, golite trail runners or sportiva rock shoes, hat.
Pack:
35 lbs. with belt pack. Other Hiking Equipment: Rope (not needed this time), extra shirts, first aid kit.
Picture Galleries (3):
South Slide (better known as the West Ramp), Otis Gully Slides 1-3, Avalanche Pass Slide "Skinny" Leg
We'll start this off with an image of Colden's southernmost western slide with a route line...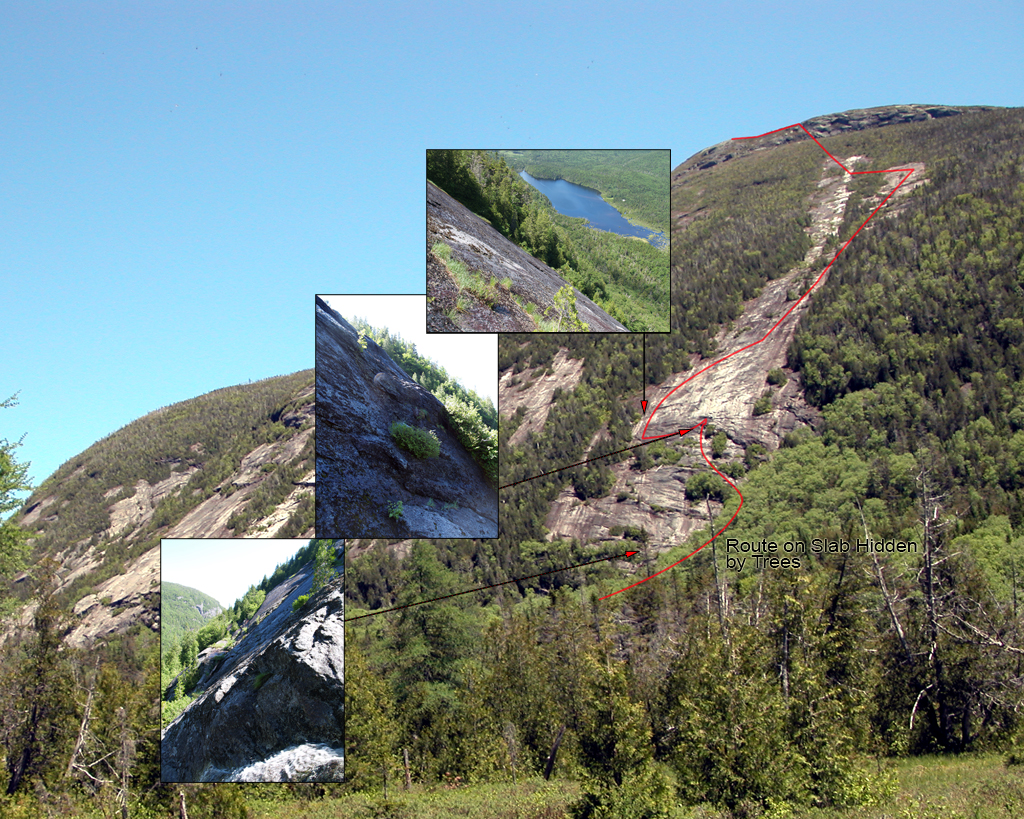 The walk from South Meadows began with the sun filtering through the moist air. Trees cast shadows, spider webs glowed and the mosquitoes worked together to increase my pace. I tried to get them to life me in unison, but they were grumpy and didn't compy. The sound of hundreds of birds in their morning chorus filled the air. A few voiced their discontent at my proximity. It was an ideal morning and pleasant way to wake up. I much prefer the rolling road to the worn hiker highway from the Loj. Spring flooding had done some damage to various culverts along the way and a beaver dam had burst and washed through as well.
Avalanche Lake, some two hours later, was the perfect place as the low sun filtered through the water at the north end. Colden's cliffs, still under cover of shadow sang in a chorus, but of a different timbre. Thousands of rivulets and drips of water each added to the song which echoed over the still water. I looked beyond the trap dyke to the steep slides that led the way to my goal; Colden's southern-most western slide. I met and talked with Dlunartik from the forum who was on his way to Redfield on his quest of the 46. It's always so nice to put a name with a face!
We followed left at the first intersection leading to Lake Colden's east side and in short order arrived at a stream approximately 10 feet wide. I looked through the trees and, glistening in the sun, was the steep wet run of the southern slide. It was 9:30 a.m. The forest of the area was mainly coniferous with some birch and plenty of blowdown. Everything was wet from rain, humidity and morning dew. The only semi-dry areas were those through which I passed…though I was then soaked. I stayed near the stream, sometimes in the woods and occasionally in the water. Less than twenty minutes later, drainages split and I stayed to the right which began to climb steeply up a mess of boulders. I could see the wall of the slide through the trees and it became more imposing as I approached. I questioned whether it could be conquered in whole or whether I'd need to ascend the first few hundred feet via the woods. Partway up the drainage, I found a blue foam sleeping pad, torn and well beaten. I figured I'd do my part to clean up the woods (an homage to "NoTrace") and strapped it to my pack. I later nullified the act by littering the slide with my own piece of equipment…more lately on that.
The drainage that I followed led directly to my intended goal; the southern portion of the base which was slightly more accessible than the steeper northern part. I hoped for ledges rather than smooth slab. I got my wish, at least in part. There were ledges aplenty and the slab was pitted with some anorthositic crystals roughing it up. The far south side harbored a vertical wall about 15 feet in height which I circumvented via the woods. Atop the ledge was a complex series of switch backing ledges that channeled the water like a perfect fountain. The rest of the slide, tinged red and harboring lots of moss, ran with seepage from high above. I changed into rock shoes at this juncture and contemplated my assault.
Several factors influenced my decisions tempered by the fact that I was solo. The north side was more open and steeper. The south started, at least with some small stepped ledges. There was moss and it was wet; traction might be an issue. My original plan entailed sticking to the south, so that's where I began by climbing the switchbacks. The lay of the ledges then made it easier to walk to the center of the slide after about 50 feet of elevation gain. Each ledge involved some strenuous and precarious climbing using either smaller outcrops or the tiniest of protrusions. Clumps of trees grew in some areas.
Twenty minutes later I found myself about 100' high on the ledges contemplating my next move. A vertical ledge set of large crystals made the climb easy even in the flowing water and intermittent moss. Once atop of it, centered in the slide, I realized I was boxed in. No need to panic, but I spent about ten minutes looking over my options. Above LOOKED possible…there was enough contour in the rock, but it was about 45 degrees of rolling slab and since it's concave, I couldn't see what might lie atop. Down-climbing would be treacherous, if necessary. Decent options lied to the south, but I'd have to cross areas of moss and open slab with nothing to stop a fall. North looked the same. I grumbled and down climbed the ledge I was on, dropped about 20 feet and decided to cross trek to the north and the open pitted slab. I'd stay near enough to the trees if I needed an out. Crossing the slab was painstaking, but worth the effort. Risk is very subjective and opting out of the more challenging option while solo seemed prudent (also read as chicken). I didn't second guess my decision, however.
The northern side was open slab above the ledges. I stayed about 20' away from the trees in areas that offered at least partially clear paths of ascent through the moss. Pitted anorthosite offered both hand and footholds. One hundred feet of human cheese grater (open rough slab) waited below. I contemplated each hand and foot placement with care which made progress slow and drained energy. Holding myself in place with finger and toe tips did the same. I continued a mantra of "trust in your shoes" on occasion.
The occasional 1 inch ledge mid-slide offered an opportunity to lie back in the cool water and take in the surroundings. I was about 300' on the crown of the steepest (and widest) portion: ledges below and open slide above. After starting once again using both hands and feet, I nullified my act of picking up trash (the sleeping pad). I leaned over, stretched to grab a handhold and heard a sound much like plastic striking stone. Indeed it was plastic on stone as the hard-shell case protecting my digital recorder which I use to take notes en route began a descent over hundreds of feet. The case dropped its cargo on the second bounce, the batteries popped out of the back on the third and the entire piece shattered on the fifth. If anyone climbs this slide and is good with fixing electronics, they might be able to listen to a few of my useless ramblings! If the recorder was on during the descent, then a few choice words might be heard followed by some shattering noises.
The prior couple days were humid and rainy and a high pressure weather system moved in just prior to the hike. Crystal clear views of Lake Colden and Flowed Lands in combination with the slide in the foreground made for spectacular photographs. Elevation changed the perspective until the southern ridge began to shield portions of the lake. As Lake Colden appeared to diminished in size, Algonquin's east face slides gradually appeared over Avalanche Mountain. A spectacular waterfall decorated its final descent down the small trap dyke bringing back memories from last year when I explored it.